Rachmaninov gets special race to celebrate his 200th start
By Dave Di Somma, Harness News Desk
When Rachmaninov fronted up on race day for the first time he was up against a future trotting superstar - not that anyone knew it at the time.
It was February 10, 2017 and Rachmaninov finished fifth at Addington, with the race winner being another debutant by the name of Sundees Son.
Sundees Son went on to win 34 races from 72 starts and over $1.4m on his way to twice being crowned Horse of the Year.
While he retired earlier this year, Rachmaninov has kept on trucking - racing in some instances over 50 times a year.
"He's got an effervescent personality, let's put it that way," says Trevor Grant, who knows the horse better than anyone.
The co-owner, co-breeder and trainer-driver of "Eddie", Grant says the horse has always loved doing what he does.
"You have to keep him busy or he's got too much energy."
It was Grant's partner Yvonne who provided the inspiration for the horse being named after one of Russia's other famous composers.
"She used to study classical piano and she had Rachmaninov playing in the house a lot of the time so I put that on the papers for him and they were approved."
While the son of Diedre Don has never achieved anything like Sundees Son's success, on Sunday he will have his moment when he lines up in Race 1, the Rachmaninov 200th Race Start Trot" at Rangiora.
"The club approached us," says Grant, "and of course we loved the idea of having a race in his honour. It's such a lovely gesture."
"And it is fitting that his 200th will be at Rangiora - it's the closest track to where we are at Eyrewell Forest."
It's also a track where he's raced 31 times in the past, producing three of his seven career wins, including his most recent on New Year's Day.
In his 199 starts he's amassed $123,333. As well as the seven wins there have been 13 seconds and 17 thirds.
Along the way he's raced against some of the very best - just eight starts ago he took on the likes of Muscle Mountain in the Group 1 New Zealand Trotting Championship. He finished seventh.
"He doesn't have the ability to go up the grades and stay there - he comes up against some nice horses as they make their way through," says Grant, "but he always puts his hand up and gives his best."
And Grant knows how to get the best out of him.
"There are a lot who can outsprint him but if the pace is on he dogs away and he's best when he can get out and run the last 500 and have a ding dong with the leader."
Sunday will be start number 23 this year, and Grant reckons his warhorse is far from finished.
"I think he's got a couple of years left in him, he just doesn't get hurt."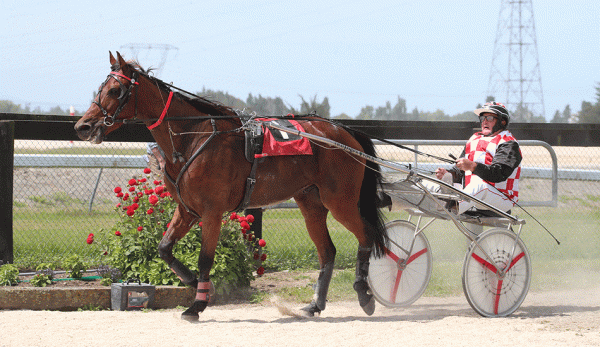 He'll become the 19th horse to have 200 starts in this country. The only three to have got to 300 are Alexy at 347, the dual gaited Take After Me (320), who won at Ashburton last Sunday, and Danke (300).
The full list of horses having 200 or more starts is :
Alexy 347
Take After Me 320
Danke 300
Four Starzz Shiraz 264
Aveross Rustler 252
Scotleigh 242
Motu Speedy Star 235
Jaspers Blue Jean 230
Jack Bates 225
Franco Huntingdon 220
Greg Brydon 219
Highland Reign 219
Dieman Lad 213
Stormy Loch 212
Idle Scott 209
Waipounamu 202
Waitaki Gamble 201
Moment Of Truth 200
Grant has already got some of them in his sights.
"We can knock a few of them off ...... if we both stay in good shape."
< BACK TO ALL
Related Category News
Next gen Kiwis heading to IDs big finale
While there are no Kiwi trained horses and/or top drivers competing on the final night of the Inter Dominions in Queensland this Saturday, there will still be some involvement from this side of the Tasman.  
More