Dolan upbeat about Amore Vita's Vicbred chances
By Adam Hamilton
Steve Dolan (above right) has booked his flight from Christchurch to cheer for his mighty mare Amore Vita as she chases a slice of history at Melton on Saturday night.
Dolan, who owns and used to train Amore Vita, said it would be "kinda cool" if the four-year-old could complete a clean sweep of the Vicbred series, having previously won the two and three-year-old finals.
And the barrier draw, combined with a stunning semi-final win, has ensured Amore Vita will dominate betting.
Regular driver Chris Alford has jetted back from New York, where he finished fifth on Aldebaran Zeus in the $US1mil Yonkers Invitational Trot last weekend, to be reunited with Amore Vita. David Moran warmed the seat in the semi.
"Oh, I'm going across - absolutely," Dolan said. "It would be pretty amazing to win a third in a row and she looks in the right form to do it."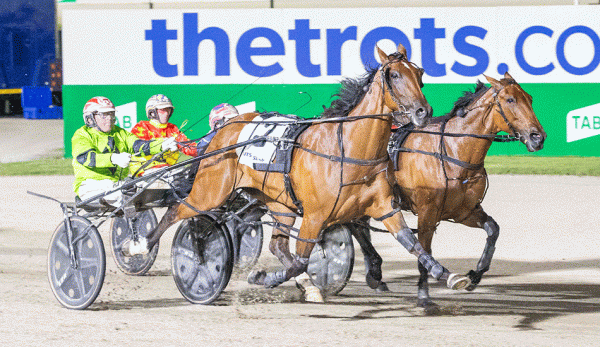 Amore Vita sat parked and was too classy and fast for talented stablemate and leader, Soho Historia, in by far the stronger of the two semi-finals last Saturday night.
Incredibly, Amore Vita is one of eight runners from 12 starters in the final, trained by Emma Stewart and Clayton Tonkin.
But Stewart and Tonkin are the third stable Amore Vita has been in.
Dolan trained her at her first three starts, all at Addington. When she won the third of them by seven lengths, it cemented a move to the then Victorian-based Nathan Purdon.
"I always had it in mind to send her to Australia because I thought she'd like the style of racing there," Dolan recalled.
"But she was beaten at her first two runs and later found to have been quite ill. She had a break and came back for that seven-length win. I told Nathan (Purdon) to watch that night and let me know what he thought. I quickly got a thumbs up back in text."
Purdon trained Amore Vita to win the Vicbred 2YO final on New Year's Eve of 2021.
When Purdon had the offer to return home and join the All Stars' barn, Dolan wanted Amore Vita to stay in Australia.
"It was Nathan who recommended Emma and Clayton," Dolan said.
"She wasn't quite at her top when they got her. She buzzed off the gate to win the Redcliffe Oaks in winter she got fired-up and hard to drive for a while afterwards.
"I'm sure Nathan would've turned her around in time and it took Emma and Clayton a few runs, but she peaked again for the Vicbred (three-year-old series).
"I remember Clayton telling me before the final she'd sit parked and win. And she sat outside Encipher and beat her. Doesn't that form look good now."
Amore Vita has raced seven times since for four wins, two seconds and a luckless eighth against the boys in the Blacks A Fake.
The other major Kiwi flavour to the huge Vicbred meeting, boasting 12 Group 1 races, is another Stewart and Tonkin runner, Joyful.
The three-year-old filly is part-owned by top Canterbury horseman Cran Dalgety.
Joyful has made her name with tough wins, but showed explosive speed to come from well off the lead and storm to victory in her semi-final
last Saturday night.
She will need luck from gate 11 in the final, especially with stablemate Sweet Bella, who is unbeaten in seven runs, drawn much better in barrier four.